Rheem Power Vent Water Heaters
Exploring Popular Rheem Power Vent Water Heaters

Rheem power vent water heaters (PV) are designed to heat water in the same way as conventional atmospheric type, but the products of combustion are blown out with a small fan, instead of rising upwards naturally through the pipes. Check out the main features and high-efficiency models.

Power vented heaters are more expensive than the models using natural draft or direct vent, while the installation is much more flexible since the vent pipes are longer and can be installed horizontally through the outside wall or vertically through the roof. Since the heater uses the electrically-powered fan, the vent pipes can be made of plastic, such as PVC, which is cheaper than metal as found in atmospheric models.
Power venting system allows flexible installation where the vents can run up to 100 ft., vertically or horizontally and are made of PVC, ABS or CPVC.
Most of the models are factory built to use natural gas, but with the appropriate conversion kit, heaters can also use propane gas.
The main features found in PV units are the Guardian System, which utilizes the Flammable Vapor Ignition Resistance system (FVIR), with the flame arrestor plate that prevents ignition of flammable vapors outside the gas combustion chamber, and the air filtration that reduces clogging. The system saves you money and time since there are no filters to clean.
Rheem power vented water heaters have the self-diagnostic system incorporated, which allows easier installation and troubleshooting. The EverKleen system is a self-cleaning system where specially designed dip tube creates turbulent water flow. This is what reduces the sediment build-up inside the tank, reduces the operational costs, and provides more hot water.
Model review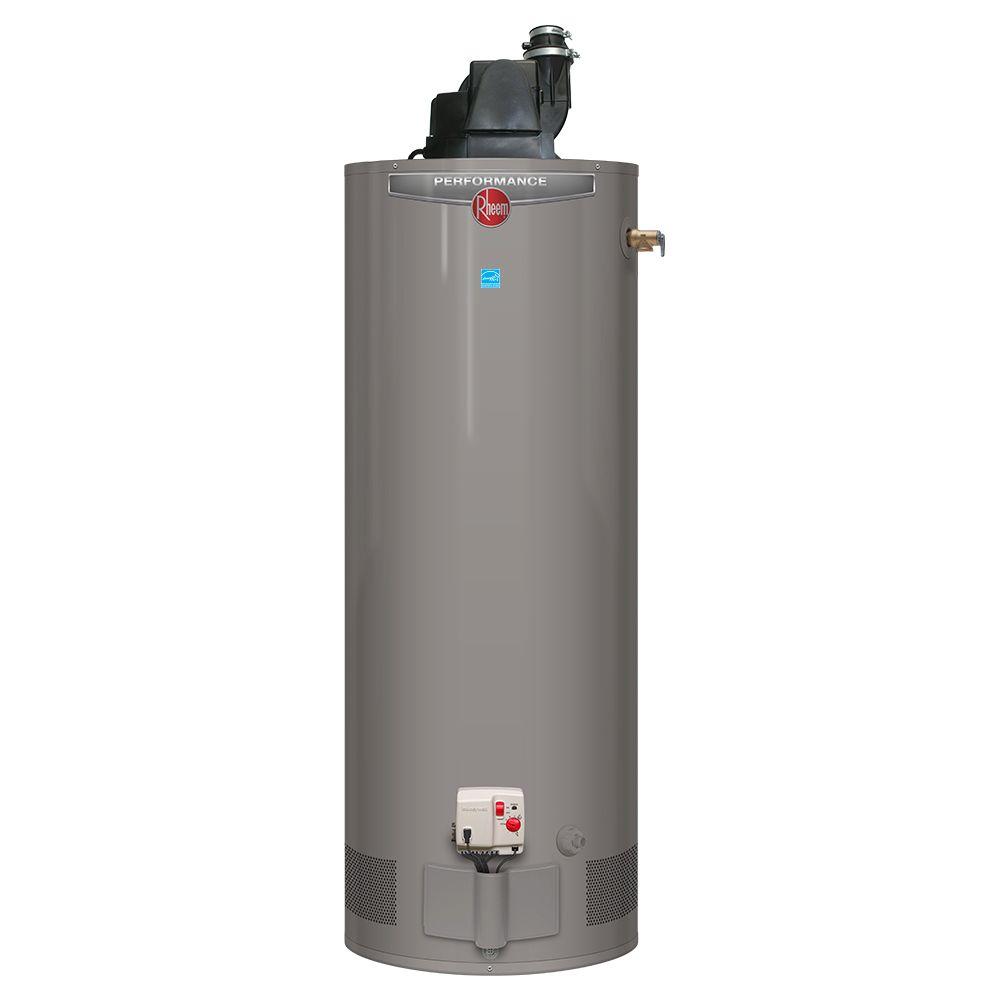 Performance 50 Gal. Tall 6 Year 42,000 BTU Natural Gas Power Vent Tank Water Heater (sold by Home Depot)
Professional Classic Plus Power Vent
Professional Classic Plus Power Vent Heavy Duty
Professional Classic Power Vent Ultra Lox NOx
Professional Classic Power Vent
Performance Series Power Vent (US only)
Performance Series Power Vent High Demand (US only)
Professional Classic Plus PV
Model
Size
(Gal)
FHR
(GPH)
Recov.
Rate
(GPH)
Energy
Factor
Warranty
PRO+G40S 36N CN67 PV*
40
68
40.4
0.67
6 or 10
PRO+G40S 36N CN67 PV*
50
87
42.4
0.67
Professional Classic Plus PV Heavy Duty
PRO+G75-76N RH PV*
75
72.8
72.8
-
8 or 12
PRO+G75-76N RH PV*
Professional Classic PV Ultra Lox NOx
PROG40-36U RH67 PV
40
72
36.4
0.67
6 or 10
PROG50-38U RH67 PV
50
94
38.4
0.67
6 or 10
Professional Classic PV
PROG40-40N RH67 PV*
40
71
32.4
0.67
6 or 10
PROG40-42N RH67 PV*
50
87
32.4
0.67
6 or 10
PROG40S-36N RH67 PV*
0.67
6 or 10
PROG50S-36N RH67 PV*
0.67
6 or 10
Performance Series PV
XG40T06PV40UO
40
68
40.4
0.67
6
XG50T06PV42UO
50
88
42.4
Performance Series PV High Demand
XG75T06PV75UO
75
120
75.8
0.59
6
* For the propane models change N to P or XG to XP depending on the model.
S - stands for short (example: PROG40S)
Summary of the main features
Energy Star compliance for EF>0.67
Self-diagnostic system for better service and monitoring
Eco-friendly gas burner with low NOx emission. Professional Classic PV Ultra Lox NOx model utilizes Ultra Lox NOx radiant burner made of stainless steel
Guardian System for maintenance free and safe operation
Robust and reliable Silicon Nitride Ignitor on all models except Professional Classic PV Ultra Lox NOx which utilizes spark to pilot ignitor
EverKleen tank protection against sediment build-up
Rheem power vent water heaters are ideal for homes where there is no chimney and is hard to establish a natural draft, and in homes that are built as energy efficient. The above models are ideal for mid-size homes as Rheem mainly offers popular sizes with the 40 and 50-gal tank capacity, while if more hot water is needed, there are high demand units with 75-gal capacity.
For those customers who live in the area with the stricter environmental regulations, ultra-low NOx models are those to look for. Most of the models are Energy Star compliant, providing greater savings and tax breaks where applicable.
Related
Rheem Power Vent Water Heaters