Rheem RTEX Electric Water Heaters Review and Buying Tips
What to expect from the Rheem RTEX models, small electric water heaters from Professional Classic series, designed for on-demand water heating in endless supply, in both point-of-use and whole-house applications.

What makes the Rheem RTEX water heaters different from other electric models of this manufacturer is the compact tankless size, also powerful, delivering hot water fast and with the accurate temperature control. Due to its small and lightweight design, RTEX models can fit almost anywhere, and the best is close to the point-of-use; under the sink, in the kitchen or bathroom, or small office providing hot water almost instantaneously. Point-of-use models work the best for the isolated sinks if the central heating system requires long pipe runs.

Model overview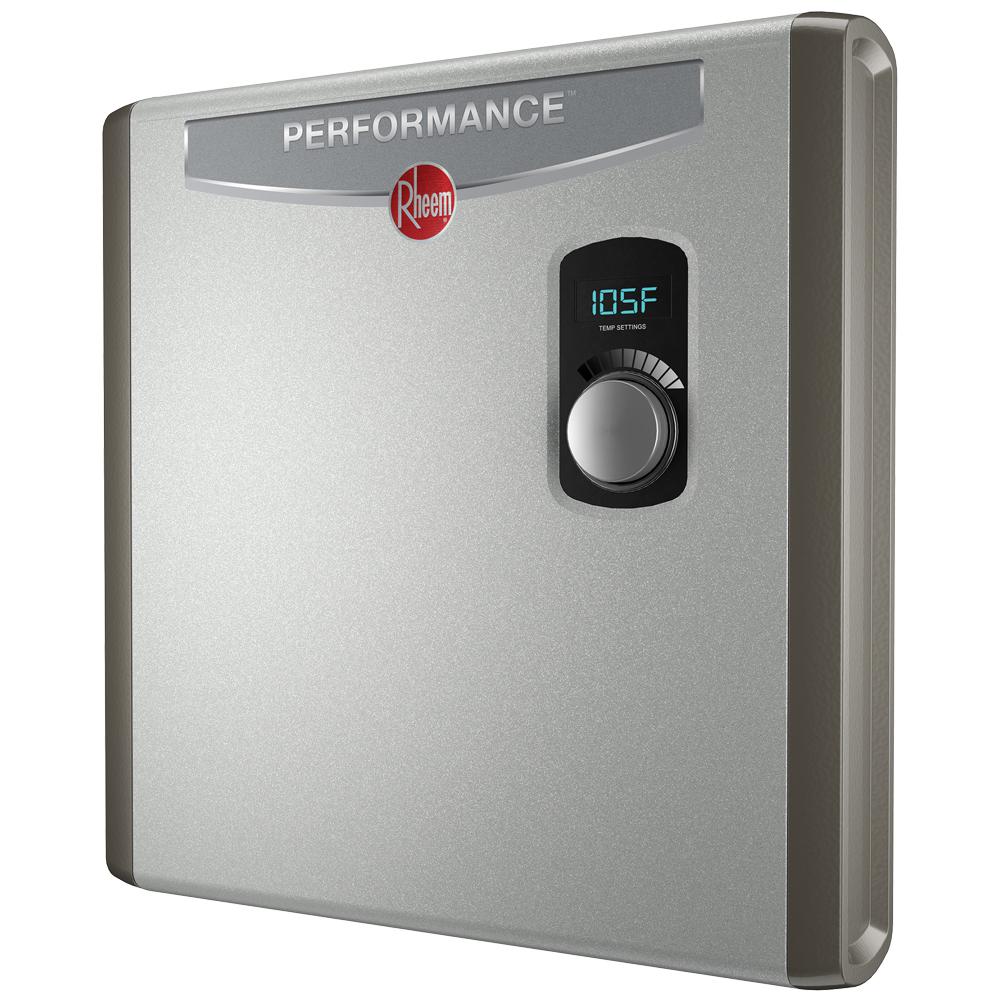 Rheem Performance 24 kw Self-Modulating 4.6 GPM Electric Tankless Water Heater (sold on homedepot.com)
Rheem RTEX water heaters, with its stylish appearance, are truly modern electric appliances that incorporate high-quality immersion heating elements, made of corrosion resistant copper and brass termination for the durable operation.
Threaded at the end, heating elements provide an easy replacement and service.
Rheem RTEX-04 and RTEX-06 models are equipped with only one heating element where RTEX-04 operates on 120 V only.
Models RTEX-08, RTEX-11, RTEX-13, and RTEX-18 have two heating elements where the last model comes with the self-modulation, allowing power adjustment depending on the hot water demand.
Water heaters RTEX-24 and RTEX-27 are also advanced as the RTEX-18 with the modulation, but these have three heating elements, while RTEX-36 four heating elements, providing even more hot water for demanding homes.
All the units, except RTEX-04 and RTEX-06, have a digital thermostatic control that allows precise temperature control from 80 F to 140 F, and in only 1 F increments. The outlet temperature can be seen on the unit's frontally located digital LED display, either in Celsius (C) or Fahrenheit (F).
Specs

Model/Specs
kW
AMPS
Wire
Size (CU)
Max. Flow
(GPM)
RTEX-04
3.5
29
10
4.8
RTEX-06
5.5
29
10
4.8
RTEX-08
5.8-8.0
33
8
4.8
RTEX-11
8.2-11
46
6
4.8
RTEX-13
10.1-13
54
6
4.8
RTEX-18
13.3-18
75
8
7
RTEX-24
17.5-24
100
8
7
RTEX-27
20-27
112
8
7
RTEX-36
26.6-36
150
8
8
Buying one of the Rheem RTEX models is no brainer; it provides an easy installation with the provided electric cord and side or bottom water connections, maintenance, and reliable heating for years to come. The system doesn't have too many high-tech elements as its gas counterpart, so it doesn't break easily, but provides an endless supply of hot water, fast and with the consistent outlet temperature, where the energy efficiency is close to 100%.
All electric tankless water heaters by Rheem come with the 5-year warranty on the heating elements and one year for other components.
Related